A member of Author's Guild, Rosemary J. Erickson, Ph.D. grew up on a farm in South Dakota and went on to become a nationally renowned expert witness on violent crime. She received a B.A. in psychology at Augustana University in Sioux Falls, South Dakota. She later received her M.A. in Sociology at San Diego State University, and then her Ph.D. in Sociology: Justice at the American University in Washington, D. C. She has taught at the American University and San Diego State University. She has also consulted and trained corporations and government agencies worldwide in crime prevention and written other books on crime and its causes. She was part of the research team that developed the Robbery and Violence Prevention program for 7-Eleven, which was adopted by the National Association for Convenience Stores. It includes the use of height strip markers and low cash signs, as well as training and other components.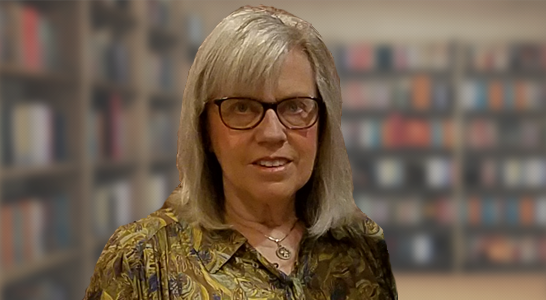 By Rosemary J Erickson
SERIAL KILLERS
Four of the serial killer cases, for which I was an expert witness in the civil suits, are the centerpiece of this book. As a forensic sociologist and expert witness, I am involved in the aftermath of such a violent event. I may be hired either as a defense expert witness or a plaintiff's expert witness, when a civil suit follows a violent event, such as these serial killings. Depending upon the location in which the murder or rape happens, the location's owner may be sued in a premises liability suit claiming lack of security and not providing a safe environment. My research on the case includes understanding the mind of the perpetrator and how and why he selected a particular place or victim.
Available Now
PRAIRIE PATRIARCH
A FARMER'S DAUGHTER BECOMES AN EXPERT WITNESS ON VIOLENT CRIME
Prairie Patriarch: A Farmer's Daughter Becomes an Expert Witness on Violent Crime was written by Dr. Erickson about her "roots" and the part that her father, mother, and rural upbringing brought about in developing her character, values, determination, and interest in researching and testifying about violent crime. Because this book is written by a sociologist, it is also suitable as a supplementary text for the sociology, criminology, law enforcement, law student or anyone interested in crime and the criminal justice system, providing a behind-the-scenes look at the life of a female expert witness on violent crime.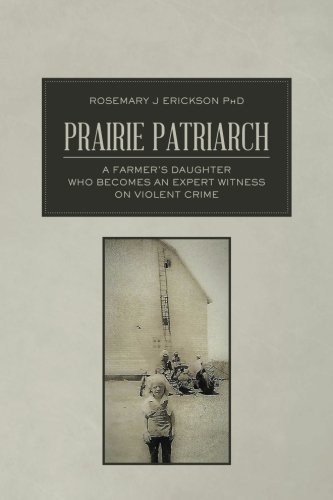 SIOUX FALLS, S.D. (KSFY) - She grew up on a farm near Davis, South Dakota and has gone on to become a nationally renowned expert on violent crime. Forensic sociologist Rosemary Erickson is among the first to be called to testify in headline-making murder cases....
Rosemary is the real deal. She has dedicated her entire life to making c-stores and other industries a safer place to work and shop. I was the one who told her she was just a farm girl at heart. I have been blessed to know Rosemary and consider it a priviledge to have worked with her.
Scot M. Lins
Retired, Senior Director, 7-Eleven Corporation
Dr. Rosemary Erickson delivers a fast-paced historical look at her Norwegian family in South Dakota. The Prairie Patriarch, with her father, Dewey Erickson in the lead role, unveils life on the plains for families who dealt with the vagaries of weather, deaths of children, close knit communities and the dissolution of this way of life as the 20th century closed.
I was captivated with the intricacies of these strong-willed, stoic people with no access to modern mental health, penicillin and often, no running water or electricity available. Dewey Erickson was a survivor, as he watched a number of his brothers and sisters die of childhood diseases and conditions that could have been prevented with timely surgery. His wife, Opal, a "town girl" was swept into being a farm wife and found that her deep love with Dewey made it all worthwhile. Dewey was famous for dressing well (not like a farmer) and for getting the latest inventions for his wife and children. He owned one of the first Model T automobiles, taught his kids to steer by age 6; hooked up the radio set to a tractor battery and in so many ways, was a dedicated free thinker.
Dr. Erickson became a forensic sociologist as a result of her dad's support and decisions, like the one to uproot the family to San Diego. Her mother's mother, Maria, she later discovered, had suffered two mental breakdowns and was confined to a State hospital twice, where she later died. This startling information spurred Rosemary's interest in the human psyche. Her next book "My Life as an Expert Witness, Testifying on Violent Crime" is sure to be as fascinating as this.
Read this book. You will be glad you did.
JBKing
Dr. Erickson's newest book, Serial Killers and the Aftermath, is unique from any book I have ever read. Dr. Erickson successfully blends three book-types into one book. In the first chapters, she shares with the reader her life-journey that took a little girl who lived in a rural, South Dakota farmhouse, with no electricity or running water, to being a well-respected, professional woman who obtained her Doctorate and became a nationally known security-consultant and expert witness. They also introduce her husband and professional business partner—Arnie Stenseth. His written contributions to the book provide a down-to-earth perspective, from the criminals he has interviewed, which he writes with wit and a first-person candor. The book then transitions to study of a Forensic Sociologist and how it differs from the other social sciences and psychology-related sciences. This portion of the book is written like a text book, but with personality and a sense of humor. The next chapters take us into four of her serial killer cases. Presented with a cool, gritty professionalism, the cases are sometimes disturbing, even to a former Detroit cop like me. Her book provided me with information on the why behind the creation of serial killers, psychopaths, and other violent criminal types that I've never seen. When you read this book, you'll never feel the same about a crime novel again.
Patrick DeVine
Security Expert and Author of Blood Brothers
Dr. Rosemary J. Erickson leaves no doubt about the existence of depravity in her chilling behind-the-headlines stories of serial killers. Dr. Erickson is especially adept at showing how the traits of psychopathy and drug-and alcohol fueled mental distortions produce serial killers. Outside the guilty-not guilty of the criminal trial, the victims and their families also have their day in court through civil suits. As a forensic sociologist, and expert witness, she shows how the places where crime takes place may abet or deter those acts.
Mark Young
Licensed Addiction Counselor
Serial murder is rare and largely unforeseeable. Dr. Erickson, with her collaborator and husband, is a deep researcher, faithful chronicler, successful arranger of facts, harmonizer of conflicting perspectives, and a clear-eyed advocate committed to understanding this most vexing of crimes.
James D. Jackson
Author
Dewey Erickson is one of twelve children in a Norwegian American family. Refusing to be overlooked, Dewey formed his own life path in the wilderness of South Dakota. Dewey's daughter, Rosemary J. Erickson, took to heart the lessons her father taught her. Dewey's lessons drove her to follow her passion to become a forensic sociologist. In Prairie Patriarch, Rosemary writes about her father's real life journey and how he impacted her.
The author, Rosemary J. Erickson, did a fantastic job of capturing the time period that Dewey lived in. Her vivid descriptions of the hardships that were encountered in the 20th century mark the reader with unforgettable images. The reader is left with a real sense of empathy as the images the author creates flood the reader's mind. It is an extremely difficult task for an author to evoke real feelings in a reader. I think that with Rosemary Erickson's fascinating descriptions, she has been able to enchant her readers and leave them with deep feelings for what her characters are experiencing.
The story was really inspiring. Dewey seems like such a determined individual and I think that it was important to get his story out in the world. Dewey faced a lot of hardship but always found a way to create strength from his own misfortune. The author captures Dewey's strength, determination, and growth by telling the story at an excellent pace and with a very conversational tone. Her pace makes Dewey's growth seem like a natural flow of events. Meanwhile, the author's conversational tone makes the reader feel as though they are being told a story by a friend. Hearing a story from a friend can often be much more captivating than hearing a story from a stranger. By captivating her readers, Rosemary makes her audience feel as though they are there while the events in the book are taking place. I would also like to point out that the book had an excellent editor because I did not notice any mistakes. Grammar and punctuation mistakes can often severely hurt the flow of a book.
I rate this book 4 out of 4 stars. I honestly cannot think of one thing that bothered me about Prairie Patriarch. It was such a well written book. The descriptions were amazingly detailed but not extremely long. In addition, the book was inspiring and the author's conversational tone made me want to keep reading.
If you enjoy a book that feels as though you are speaking with the author, then I would recommend this book to you. I would also recommend this book if you are interested in reading true stories that are very inspiring. If you are not interested in reading a lot of detail and prefer to get straight to dialogue, then I would not recommend this book to you.